ALESIS HR16 / HR16B MODS: £100
(Installed on your machine by circuitbenders)
For many years mankind has been baffled by the existence of the Alesis HR-16 & HR-16B drum machines, mainly due to the fact that the Alesis engineers appeared to have an obsession with doorstops at the time (see Alesis MMT-8 sequencer) and filled them with 49 sounds that sound strangely 'odd' in some indefinable way. Despite this, the HR--16 is one of our favorite bent drum machines capable of an excellent selection of extremely usable bent sounds and effects.
MODS INCLUDE:
28 way main patchbay: More information and details of our patchbay mods can be found HERE. The HR16 patchbay is very versatile and excels and strange vibrating metallic crunch effects alongside a wide range of envelope effects and bottom end bass insanity.
The patchbay also includes 2 X Patchable switches and 2 X 3 way Patching multiples for a huge range of extra percussion grinding possibilities.
Click on the demo's below for mp3's of what these mods can do.
---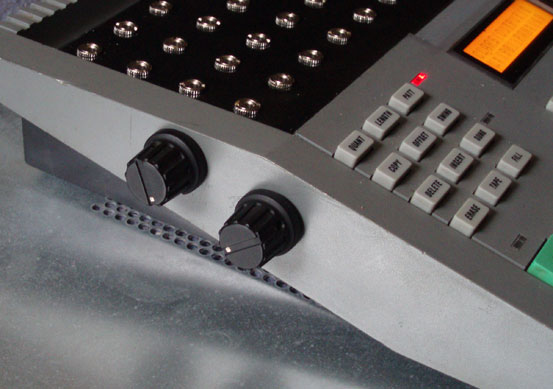 This optional mod adds two pitch knobs to the side of the unit. If you attempt to add pitch controls to a lot of drum machines from this era you have to slow down the main clock of the entire circuit, meaning that programming the thing slows down as well, even to the extent of there being a noticeable lag between hitting a pad and the sound actually being heard. The HR16 is different, as it allows you to control the speed of the sample playback independently of the system clock.
With all modifications of this type you do start to experience a very slight background whine as you take the pitch down to the kind of low levels that make the drum sounds turn into a wall of gritty aliasing noise. As a result we fit two pitch controls. The first operates within a range where there is no whine, and the sounds are still actually usable as percussion noises. From then on down, the second knob takes over, taking the pitch down into obscenely crunchy noise. Imagine watching grainy slow motion footage of a panel beating convention and you get a pretty good idea of what this second pitch knob can do. The HR16 isn't so useful as a percussion machine at these obscenely low pitch levels, but if you were planning the soundtrack to armageddon then this should be your tool of choice.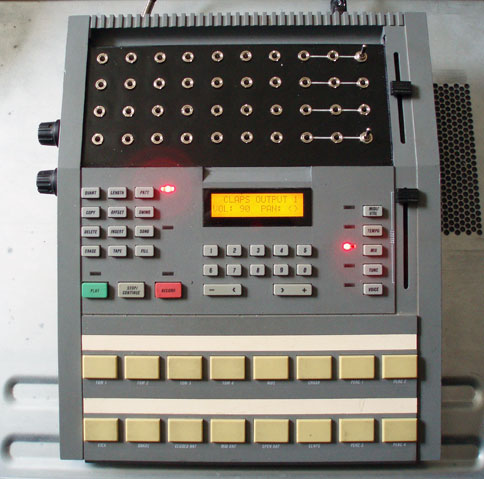 To hear the pitch knobs in action listen to the demo below.
---
Some free loops for you to download. Produced with an Alesis HR16B with both the patchbay and pitch mods installed.
---
REPLACEMENT LCD SCREEN: £20
If you have an early HR16 then the screen is probably starting to show its age by now. You can usually tell if you have a really early one by the way that screen is now an elderly muddy orange colour that tries its best to backlight the fading grey characters, but the whole thing is barely visible, and thats only if you squat in front of the thing at an impossible viewing angle!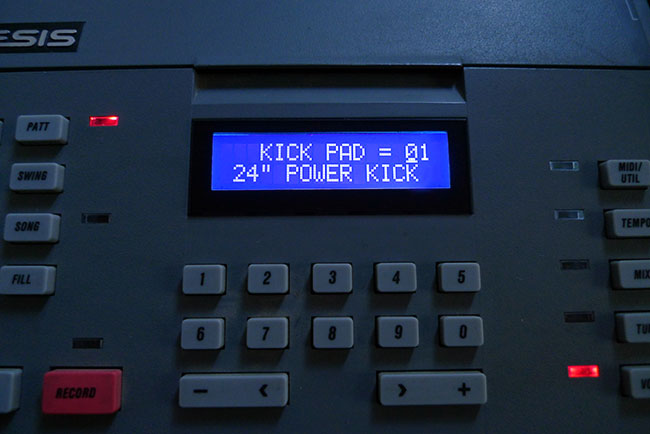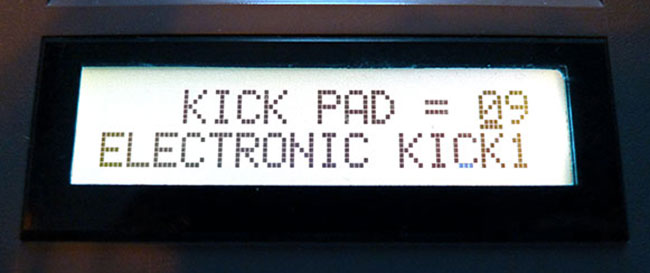 For £20 we can fit a new screen on your HR16 or HR16B. These screens are very high quality with an evenly lit background, and come with either white characters with a blue backlight, black characters with a white backlight, black characters with a yellow backgound, or white characters on a black background, depending on what we have in stock.
if you want your HR16 or HR16B modded get in touch using the CONTACT form.