LATEST CIRCUITBENDERS NEWS
03/08/22 - LTC1799's have finally been hit by the worldwide chip shortage. As of July 2022 the manufacturers are quoting a lead time of just over 2 years before they have any more available! All major suppliers are out of stock and prices have tripled or quadrupled anywhere else.
We have a small stock for installing our own mods, and we hopefully have some more extremely overpriced units on their way, but unless someone miraculously gets some in at a reasonable price then its probably unlikely that we'll have many, if any LTC1799 based reclocking modules for sale any time soon. If we do then they will inevitably be more expensive, but we'll see what we can do.

CORONAVIRUS STUFF - There shouldn't currently be any delays of more than a day or two getting things shipped out, but we cannot account for any delays in your local postal service or customs. We will try to get orders to you as quickly as possible, but these are strange time we live in!

05/07/21 - We have a new TR7X7 mod video up on Youtube featuring a TR707 with both our mods and the HKA Designs ROM expansion mod installed.

21/02/21 - All the tutorials on the site have been gathered onto the new tutorials page instead of being spread around in random corners of the site only accessible via mysterious and esoteric paths! You can find the tutorials page HERE.

24/10/20 - We have a couple of new drumBs panels available. A much requested dehydrated piss yellow colour, and a very limited, experimental and possibly ill advised black on black panel that appears to have been designed exclusively for braille readers!

15/08/20 - drumBs PCB's are now available to build an anlogue percussion source in either eurorack or standalone format.

12/06/20 - We have a new video on YoutTube with our Roland patch box used with a Roland U110 synth module

12/05/20 - It appears our Roland R8/R8M percussion grinding patch box also works with the Roland U220, and presumably any other units that use the same ROM soound cards such as the U110, MV30 and U20.

21/11/19 - BEHOLD! Due to a massive demand of literally nobody other than we rather liked the idea, we now have Drink Petrol For Jesus greetings cards available on the site! Applicable to any occasion via the simple to operate internal instructions, this card will fill your victims with an uncontrollable and possibly illegal level of rapturous joy.
Thats guaranteed or your money back!*

*Please note: Guarantee invalid if the card has been read, or observed in any way.



03/10/19 - We have a write up on our new Nixie Clock with Dekatron spinner counting tube, built into the case from a very scary piece of 1930's medical equpiment! Click HERE or on the image for more details.

21/08/19 - Continuing the recent trend for offering mods for a very limited demographic, the Alesis Nanoverb 2 reclocking and RAM loop mods are now available for your unit. Click HERE for more details.

30/07/19 - We have a new tutorial detailing bypassing / replacing the Roland R8 and R5 power supplies with their with unique connectors, using an internal dual power rail generator PCB. This allows you to run these machines using a standard external DC power supply. Click HERE for more details.

27/07/19 - We are now selling replacement SH101 power switches. These will solve any tuning issues your synth is experiencing if you touch the power button. Click HERE or on the image below for details.

16/07/19 - Roland R8 / R8M percussion grinding patch boxes are available from the SHOP. The box plugs in via a ROM card port and doesn't need any mods to the machine itself.

09/04/19 - Yamaha REX50 mods are now available for your machine. Mods include a 16 way RAM decimation switch matrix and a reclocking knob. More detals can be found HERE.

14/02/19 - We have a new write up on our Yamaha RY30drum machine mods that can be found HERE

12/02/19 - The Behringulizer 2000 mod kits have been updated with another version available for the DSP1024P and the DSP1224P. The later 24 bit versions of the Virtualizer DSP1000P or Modulizer DSP1200P. Click HERE for details.

18/06/18 - Behringulizer 2000 DIY kits are available on the SHOP page. The mod adds a system reclocking knob plus a switchable operating system and effects set to a Behringer Virtualizer DSP1000P or Modulizer DSP1200P

05/06/18 - We have a few 'Redshift Multiple' eurorack multiple and level shifter modules avaiable on the SHOP page.

14/08/17 - We have a new demo of a circuit bent Phonic Verbifex multi FX unit up on our Soundcloud. Mods include a reclocking knob and a RAM loop button.

23/01/17 - The Kawai R-ROM sound ROM switcher mod is available as a solderless DIY kit on the SHOP page of the site.

20/01/17 - The KAWAI R100 mods page has been updated with the new external patchbay and ROM switcher mods.

29/11/16 - Poly800 mkI MDK Midi Dump Kit's are now available. This DIY kit adds midi sysex patch exchange with your computer to the mkI Poly800. Click HERE or on the image for details.

16/09/16 - Harmonic Engine DIY PCB's are now available. The Harmonic Engine is a clone of the 1981 E&MM Harmony Generator. Click HERE or on the image for more details.

29/07/16 - DIY Audio 2 Trigger interface kits are available in the shop. Theres also some pre-built modules for direct installation into a Roland TR8.
The interface takes an audio signal such as a click or rimshot sound, and converts it into a +5v 10ms analogue trigger pulse.

04/07/16 - We have a new DIY kit that adds a data entry knob to replace the up & down parameter change buttons on a Korg Poly800 mkI or mkII synth. Click HERE or on the image below to take a look

08/05/16 - Ten Thumbed Tone Deaf No Talent Noise Pollution T-shirts are available in various colours on the Mercht website until 22nd May. Ships on 25th May. Click HERE or on the image below to take a look.

15/02/16 - The Zoom 1204 reclocking mod is now available for your unit. Click HERE or on the image below to take a look.
LATEST BENDS & MODS
This section is updated on a vaguely regular basis with details of our latest circuit bent and modified machines. Take a look in the archive for older featured machines.
Y
---
NIXIE CLOCK
This beautiful thing is a 6 digit Nixie tube clock with a Dekatron spinner, all built into the casing from an extremely scary piece of 1930's medical equipment. The art deco styling on the case is completely original for the period it was originally made, as is the huge rectifier tube in the back...... and yes, it does have a socket labelled BIPOLAR COAGULATION on the right hand side!
Its only polite that we all just pause for a moment to imagine the potential here for a completely indecipherable death metal band logo..........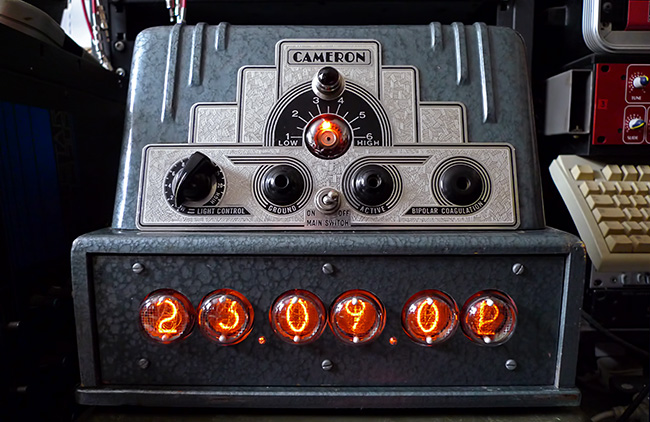 The casing was found on ebay in a somewhat battered state, with all the original accessories included in the wooden drawer that pulls out of the lower section. A bit of research on the makers, 'Cameron Surgical Speciality Company Chicago', suggests that between 1915 and 1953 they manufactured dental and surgical tools, including something called

"The Cameron Cauterodyne.  A bloodless surgical knife.  It was used for both cutting and coagulation during procedures, with independent controls to regulate each of those functions".

Judging from the controls, accessories and the massive transformer that was originally mounted inside, its probable that this thing was a power supply for the Cameron Cauterodyne. From the look of the interior when it was first opened up, it was fairly clear that its additional function would have been as entertainingly dangerous fire hazard that would probably have involved picking rectifier tube shrapnel out of your face for weeks after you made the mistake of powering it up!

The information about the 'Cameron Surgical Speciality Company was found HERE, on the only page that seems to have any kind of mention of their history. The photo below is from the original ebay listing, showing the accessories included.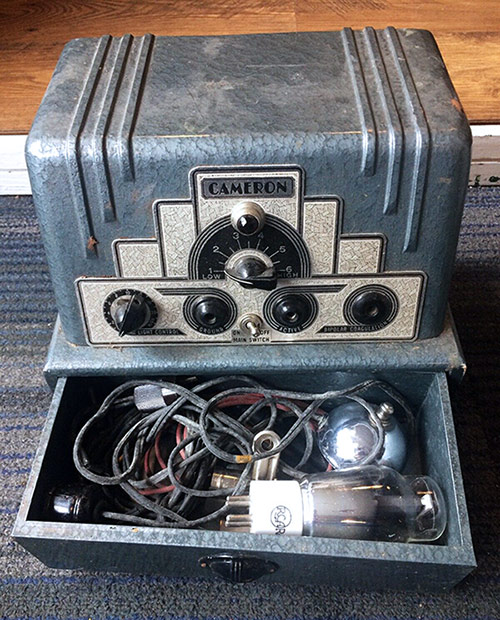 After removing the massive death trap of a transformer and other associated junk from inside, we very carefully cut six IN-4 nixie tube sized holes in the front of the removable accessories drawer. Inside the front panel of the drawer we mounted a HALO IN-4 nixie clock PCB from PV Electronics, who were also kind enough to update the firmware code to a custom version so that it would sync with their Dekaduo dual Dekatron tube driver board.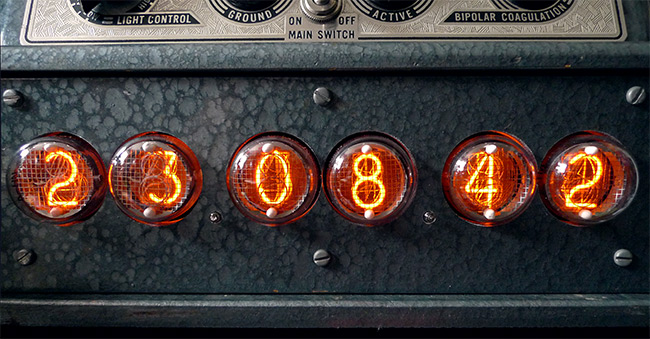 The IN-4 nixie tubes were bought from an excellent ebay seller in the Ukraine, who even included an extra spare tube for free.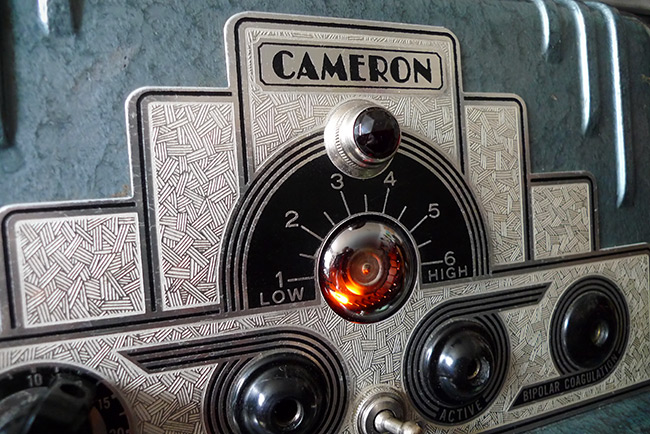 The original Bakelite chicken head knob in the middle of the panel was removed along with its weird mechanical linkage to some kind of variable coil arrangement, and the hole was enlarged so that a Dekatron counting tube could be mounted behind it in the centre of the panel.

The Dekatron has two display options controlled by the original ball headed "main switch" underneath it. The first mode has the Dekatron segments lighting in sequence so the illuminated segment spins around the tube once a second, and the second mode displays a pendulum effect with the segments spinning around clockwise for one second, and then anticlockwise for the next.

We've installed a new LED behind the red cut glass lamp cover above the Dekatron tube. The brightness of this LED is now controlled by the remaining chicken head knob labelled 'light control', for no other reason than because it was possible! The LED lights and flashes to indicate various clock functions.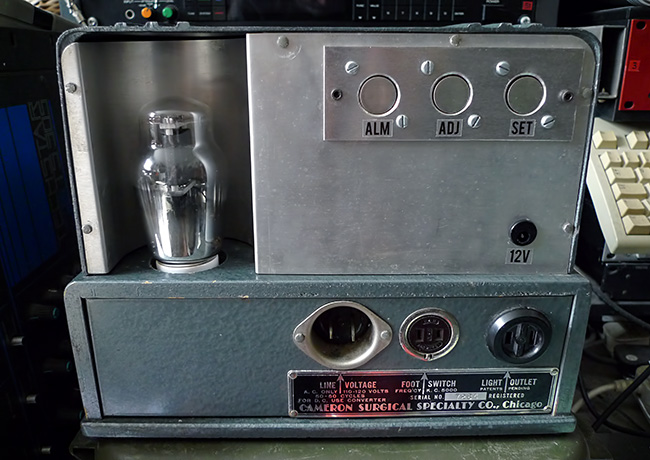 Round the back you can see the massive original rectifier valve which doesn't do anything anymore, but its a certainly a beautiful thing. There are also the setup controls for the clock. These consist of three vandal proof tactile switches mounted on an aluminium plate. Originally the switches were going to be mounted on the back panel metal itself, but a combination of the thinness of the panel, and a near disastrous 'drilling a hole in completely the wrong place' event, meant that mount the buttons on a new panel seemed like a better idea. Theres also a new DC power socket for a standard 12v power supply.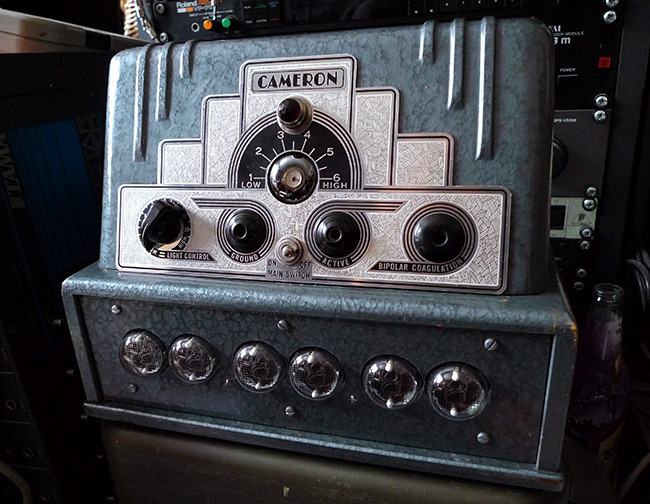 Below you can see a short video of this clock actually running
From now on we're putting Dekatron spinners in absolutely everything regardless of whether its even slightly appropriate!