LTC1799 PRECISION OSCILLATOR ON DIP6 ADAPTER: £3
These are available on our ETSY shop for EU customers.
Read more about buying from the EU HERE.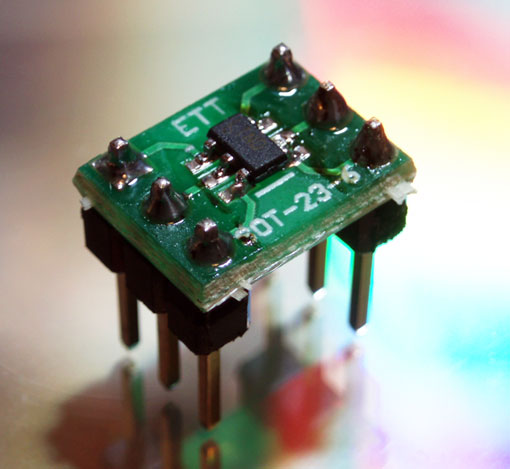 This version of the LTC1799 is pre-soldered to a DIP6 adapter. This enables you to simply plug it into a standard IC socket, or solder it straight to a stripboard design. Due to shipping issues, the LTC1799 will be supplied with the pins included but unsoldered.
Check out our BUILD GUIDE for a simple guide and instructions on how to use this module to put together a LTC1799 oscillator on a small piece of stripboard in about 20 minutes, using the minimum of components.
We also have a general INSTALLATION GUIDE that covers the basics of installing a stripboard based LTC1799 on many machines.
The price for each adapter mounted LTC1799 is £3.50. When you account for VAT and other taxes charged by regular component suppliers like Farnell, this is still cheaper than just buying the LTC1799 chip on its own and without an adapter from most places. We buy in bulk so you don't have to! ;-)
If you want to buy one or more of these modules click on the Buy Now button below. Payments are processed via Paypal, but you can pay using a credit or debit card without having a Paypal account. If you want to pay using some other method, please get in touch via the CONTACT page.
To build an LTC1799 oscillator on stripboard using only this chip, a capacitor, a resistor and a potentiometer, take a look at our free construction guide and general installation guide.