KORG POLY800 MDK (Midi Dump Kit): £22
The Korg Poly800 MDK was an upgrade kit for the Poly800 mkI that Korg released for what seems like about 20 minutes in the late 80's. What is does is allow you to load and dump the entire patch memory to and from your synth and your computer via midi system exclusive (sysex) data.
The original Poly800 mkI's only allowed you to save and load sounds from cassette, like on early home computers, although WAV or mp3 recordings of the audio data played from your computer also work once you've figured out the correct levels.
The EX800 already has the ability to transfer data over sysex. The fact it has no keyboard and so therefore didn't need the keyboard scanning routines in the operating system, gave Korg some extra space to add the facility for sysex transfer.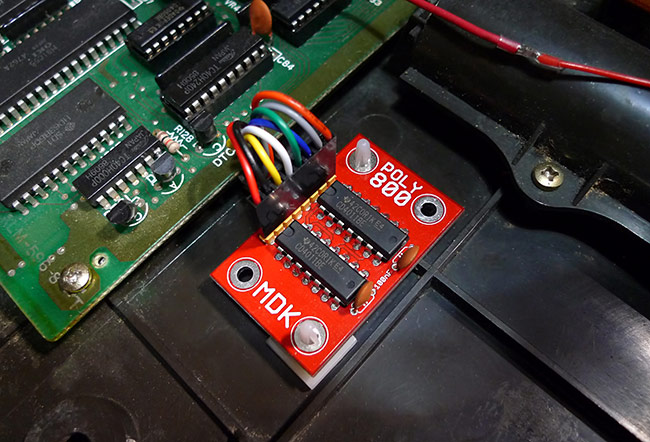 This kit consists of an updated operating system in the form of the POLY MDK EPROM chip, a small MDK PCB, a couple of PCB mounts, and an eight way wiring loom.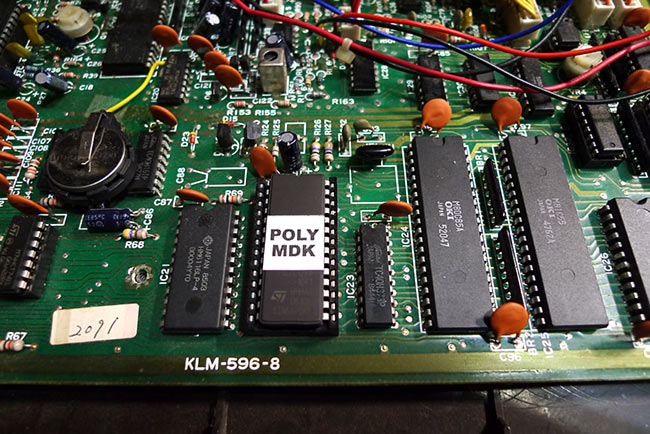 The build guide can be downloaded HERE,
Installation is quick and easy, although you will need to cut a couple of PCB tracks and solder in a few wires.
The original operating system on the Poly800 mkI has a known bug in it that can cause parts, or all of the sound memory to be erased under specific circumstances involving certain midi operations. We have not been able to replicate this bug using the updated operating system used in this mod. There is every possibility that Korg fixed this issue with this OS release, although we cannot say this with absolute certainty as is difficult to claim a fault isn't there when you aren't 100% sure how to reliably force it to happen!
Below are a couple of Poly800 mkI sound banks that we have found on the net as WAV files, and have converted into midi sysex files via this mod. They can be quickly loaded into a MDK equipped poly800 via a midi utility program like MidiOX
Factory Sound Bank - DOWNLOAD
Xan Sound Bank - DOWNLOAD
KORG POLY800 Midi Dump Kit: £22
Payments are processed via Paypal, but you can pay using a credit or debit card without having a Paypal account. If you want to pay using some other method, please get in touch via the CONTACT page. Please note, we cannot accept a return on a kit once an attempt has been made to install it.