---
TR7X7 INDIVIDUAL PITCH CONTROL MOD KIT FOR TR707 & TR727: £40
These are available on our ETSY shop for EU customers.
Read more about buying from the EU HERE.
WARNING: There are parts of this mod that can severely damage your drum machine if installed incorrectly, and repair would be either very difficult or impossible. Before attempting this mod read the entire mod guide, and if you have doubts or are not 100% confident of your abilities then DO NOT ATTEMPT THE MOD. Really, we aren't joking about this. We can't be held responsible if you mess this up, and theres not a lot we can do to help. Proceed at your own risk.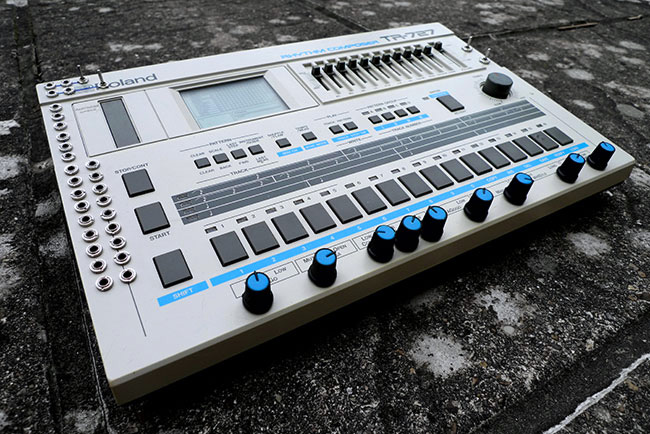 This mod kit adds nine pitch controls to either the TR707 or the TR727 drum machine. These are the blue knobs along the bottom under the step buttons on the image above, and the orange ones in the same position on the image below. You get one pitch control for each sound group, i.e. the two TR707 snares share the same control, the rimshot and cowbell share the same control, as do the clap and tambourine etc. The only exception to this are the crash and ride cymbals, or the Quijada and Star Chime on the TR&27, that both share a pitch control despite having separate volume faders.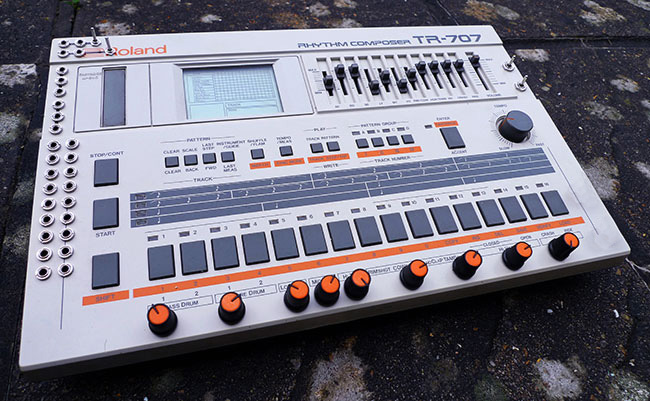 If you want to install this mod we would probably recommend a couple of fairly specialist tools in the form of a pointed dental pick of some sort, and a hobby drill with a very small drill bit. Substitutions can probably be made, but see the build guide for more details. You are also going to need some wire, ideally a few small cable ties and some patience. We can't recommend the last of these items enough!
You can hear some demos of this mod on a TR707 below:

or on a TR727:
This pitch mod is 100% compatible with the HKA Designs sound ROM expansion. You can see a video with the HKA expansion and our other TR7X7 mods installed below.
It will probably be a bit more difficult to install the HKA expansion once this pitch kit is installed, so if you wanted both then it would probably be a good idea to install the HKA kit first.
The individual pitch mod installation guide can be found HERE. Please read the guide BEFORE buying this kit.
If you want to buy a kit click on the Buy Now buttons below. Payments are processed via Paypal, but you can pay using a credit or debit card without having a Paypal account. If you want to pay using some other method, please get in touch via the CONTACT page.
Pitch kit for TR707 - Orange knobs
Pitch kit for TR727 - Blue knobs