---
BLACK BOX AUDIO DESTRUCTOR - £85
These are available on our ETSY shop for EU customers.
Read more about buying from the EU HERE.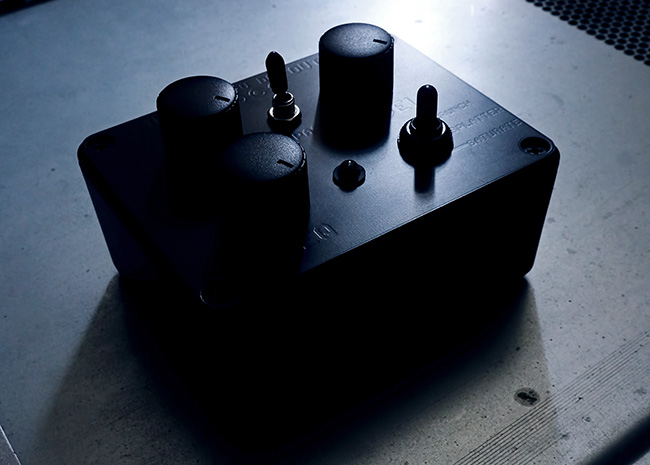 Essentially this small black box eats audio alive, then chews it up and spits it out in what can only be described as a deeply offensive manner. The box can create a wide range of bitcrushing style, gating, distortion and synthlike frequency effects with an intensity that can be anything from a gentle thin crunch to a terrifying wall of unstoppable noise.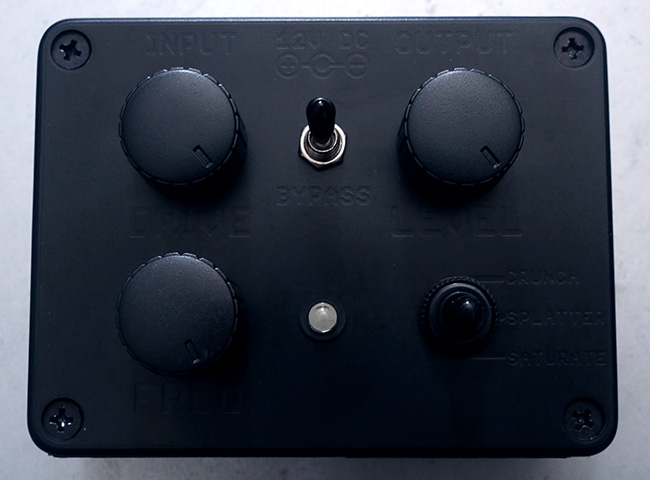 The controls consist of a input / drive level knob that sets how much of the signal is sent into the effect, a bypass switch, an output level knob, a 3 way mode selection switch and a frequency control. Much like a distortion or overdrive effect, the harder you push a signal into the effect the more intense and compressed the effect will be, but if you pull back on the input level with the knob the effects tend to either start gating the input sound or turn into a gentle gritty fuzz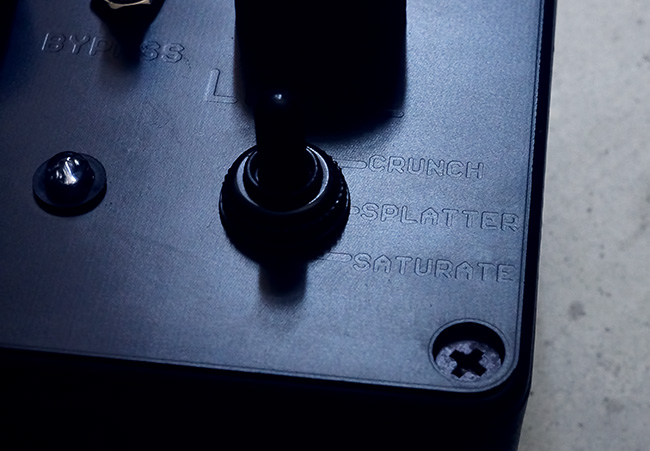 The mode switch selects between Crunch mode, Splatter mode and Saturate mode. In every mode the audio is distorted and ground up at a frequency selected by the frequency knob, Selecting Crunch mode with the switch in the upwards position gives a spluttering crunchy distorted sound that can sound like anything from an old fuzz pedal with a nearly dead battery, to a mixing desk with every light running in the red. In Splatter mode with the switch in the central position you get a much more intense effect, where the input signal and the effect signal start to blend into one mighty noise, but with an addition of disgusting midrange splattering. In this mode you can get brutally saturated and distorted synth like tones running at the frequency of the input signal. The final mode is the Saturate mode with the switch in the downward position. Think of this as the Splatter mode with all pretence at subtelty removed. Most of the time though its more like an unstoppable wall of vomit inducing destruction. With an input signal as a low frequency sweeping synth waveform we haveeven managed to get pseudo ring modulator tones in this mode.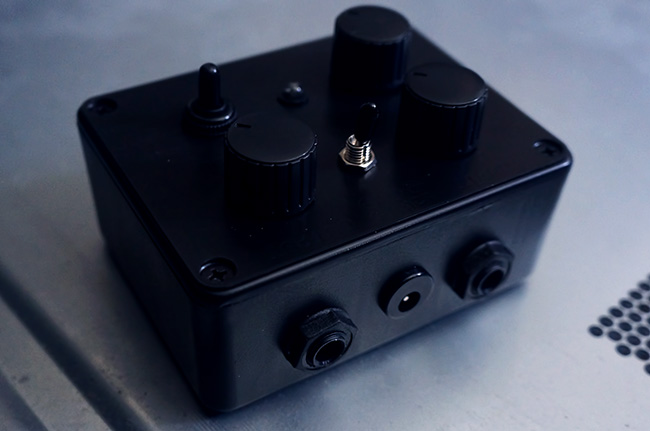 Round the back you'll find input and output sockets along with a 12v power supply input. The power supply is not included, so you'll need a 12v negative tip polarity PSU
This is NOT a circuit bent machine. We have actually built this thing from scratch as as such it is a unique processor.
To hear demos of what this box can do just click on the player below. The first is a crushed techno loop, the second is a breakbeat, the third is a clean guitar and the final demo is what happens when you process basic synthesis waves through the box.
NEW DEMOS
Below are a couple of demos of a clean guitar played through a version of this unit built into a wah pedal case.
The video below of a Jomox Xbase09 through a Black Audio Destructor was produced by the Italian Industrial artist KONEY. To visit his blog go HERE
If you want to buy one of these units click on the Buy Now button below. Payments are processed via Paypal, but you can pay using a credit or debit card without having a Paypal account. If you want to pay using some other method, please get in touch via the CONTACT page.