'DRINK PETROL FOR JESUS' GREETINGS CARDS
These are also available on our ETSY shop for EU customers.
Read more about buying from the EU HERE.
Ladies and gentlemen! Young and old! Gather ye round and witness the majesty that is the circuitbenders.co.uk 'Drink Petrol For Jesus' greetings card! Applicable to any occasion (see below for details), this card is sure to both delight and deeply offend up to 100% of everyone, including friends, enemies and baffled pensioners alike.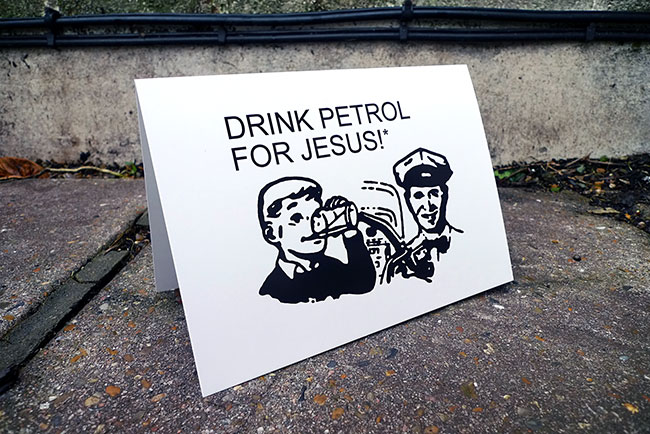 The 'Drink Petrol For Jesus' quote first appeared on the back of our Phonic Taxidermist 47.2b PCB, and proved so popular we've been milking it with stickers, business cards and T-shirts ever since.
Now is your chance to give the gift of prophet based flammable liquid consumption in a living greetings card format!
The card has an enchanting pre-printed 'fill it in yourself'™ message inside that allows you to adapt the card to any joyous event ranging from Christmas and Birthdays, to passing a kidney stone and post death reanimation.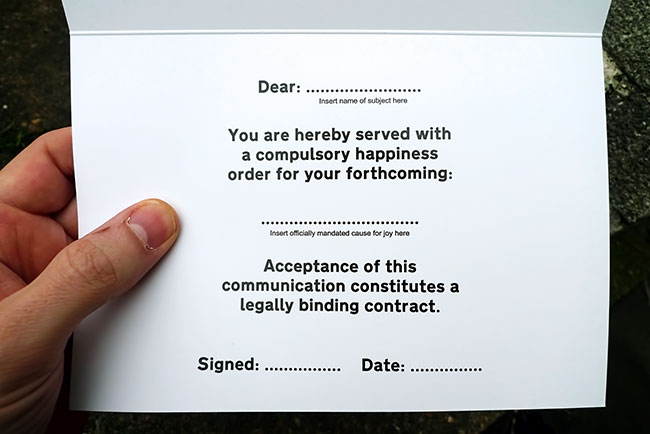 For full appreciation of the compelling artwork it is professionally printed on thick card at an unnecessarily large A5 in size (21cm x 15cm) and comes with a fully functional envelope. See the image below for full operating instructions.

ALL CARDS REDUCED IN PRICE!
BUY NOW, REGRET IT LATER!
1 x 'Drink Petrol For Jesus' greetings card: £2.50
5 x 'Drink Petrol For Jesus' greetings card: £5
10 x 'Drink Petrol For Jesus' greetings card: £9